The Ultimate Gift Guide for Older Women
Giving gifts is one of the purest ways to show someone you care, and the women in your life deserve a gift more than just about anybody. Whether it's your mother, grandmother, aunt, sister, or friend, they've probably done more for you than you even realize!
We've compiled a list of some of the best gifts for older women. So if it's the holidays, Mother's Day, a birthday, or you're just feeling particularly thankful, these are gifts she's bound to love. From presents that will make any homemaker's life easier to useful bits of technology (that she will actually want to use), this is the ultimate gift guide for older women.
Many of us have inherited our entire sense of what makes a house a home from our mothers and grandmothers. From family traditions, recipes, decorating sensibilities, and even landscaping, these matriarchs put a lot into creating beautiful and comforting spaces for their families. These gifts are perfect for someone who loves to cook, garden, and make her home a welcoming place to be.
Food brings people together, and many cooks have a stash of secret family recipes that they bring out for only the most special occasions. These recipes are precious, so shouldn't they be compiled? A family recipe book protects your family's culinary legacy and ensures that future generations can continue to pass down delicious dishes. It's a gift that keeps giving and can be a lasting memento of your family's talented cooks.
Another important part of the kitchen is the dish and tea towels; they are indispensable while cooking! Custom dish towels give a kitchen that personal touch while also being practical for everyday use. Not to mention the fact that they're a great way for the chef in your life to mark their territory, show off their sense of humor, or show love to their special people.
Did you know that smell is the sense most closely associated with memory? If you have a fond memory, there's a good chance a smell is part of it. Help the older woman in your life provide the scent-track to more good memories by getting her some quality scented candles! They can fill a room with comfort in minutes. And if you want to go the extra mile, you can take her to a candle making workshop.
A beautiful home isn't just about making the inside of the house beautiful; the outside is just as important. If your special person loves planting flowers, herbs, and vegetables, a set of gardening tools is a great way to show that you care!
For Looking & Feeling Her Best
It's important to take care of yourself, and it gets more important the older you are. That's why we've included some gifts that are sure to have the older woman in your life looking and feeling her best. From medicine cases to bath bombs, these are the perfect gifts for the health-conscious women in your life.
Remembering to take your medication can be the difference between a good and bad day for just about any woman over the age of 60. Unfortunately, pulling a pill organizer out of your purse doesn't always feel great. That's why you should consider gifting a cute medicine case! They are available in tons of styles to perfectly match the personality of the recipient. This gift can make it easier for the special lady in your life to remember to take her medicine!
Who doesn't love a bath? Not only is a bath relaxing, but it also has health benefits that everyone can benefit from. Any bath can be spiced up with a bath bomb! These foamy bundles of joy add rejuvenating ingredients like epsom salt and kaolin to your bath, having you feel even more refreshed after your soak. This gift is sure to bring a smile to your loved one, especially when bought from a local maker like SOAK Bath & Beauty!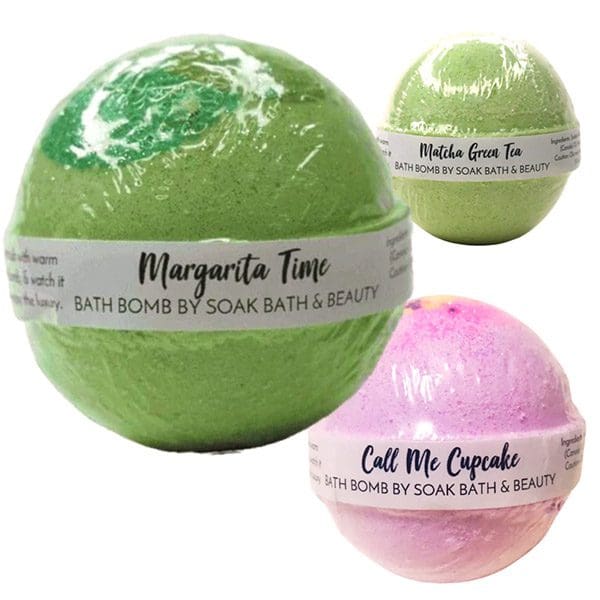 Skin Care
Your skin is important. Aside from being the largest organ in (or on) your body, it's also the part of you that everyone sees. That's why you need to keep it healthy, especially as you get older. Even as you age, you can keep your skin looking and feeling fresh with a little self-care. These products from VociMedSpa, a local provider, can keep your mother, grandmother, aunt, or sister looking and feeling young.
Through the years our feet endure abuse and pain, and most of the women in your life probably deserve taking a load off and having a well-earned foot massage. Instead of giving them a coupon for a single-time massage, give them the gift that keeps on giving: a foot massager machine! With multiple modes, heating, and easy portability, this electronic foot massager is a great gift for relaxing and soothing your favorite person's feet at the end of a long day.
For the Tech-Savvy Lady
Some technology can be a challenge for older adults, with phone and computer technology advancing at breakneck speeds. Luckily, gadgets are also making advances in user-friendliness and doing what technology is meant to do: making life easier. Here are a few electronic tools to make your loved one's lives easier.
While we might read listicles today, The Greatest Generation still consumes books in the traditional way: cover to cover. But hauling around books gets harder as you age, and the more serious reader in your life might be working through five or six books at the same time, so an eReader like a Kindle can make reading easier. With access to thousands of books at your fingertips and a screen that's easy on the eyes, this Kindle eReader is the perfect gift for the literature-loving older woman in your life.
Photos capture memories like nothing else. With every phone coming equipped with a camera, we now take more photos than ever before. But these digital photos can feel temporary and can be accidentally deleted forever. A portable photo printer is the perfect solution to this problem. You can fill up a photo album in just a couple of hours using a photo printer like this.
We all misplace our keys or wallets from time-to-time, and when you're in a rush this can cause you to panic. Luckily, key finders are available that make it easy to track your keyring. All you have to do is put the receiver on your keychain, in your wallet, or on anything else you don't want to lose, and you will be able to find it in seconds. This is a great gift for the older woman on the go!
When it comes to finding the right gift for the older woman in your life, there are tons of options! Some make her life easier and some make her more comfortable, but they will all put a smile on her face and show her how much you care. Make sure to add a meaningful card, and jot down some sweet memories or an inside joke to make sure they feel the full sentiment of your gift, and know that you're not just checking off a list!